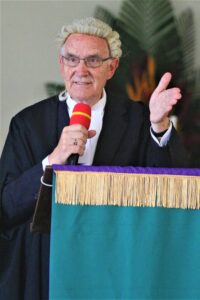 In his keynote address delivered to the 17th General Synod of the Anglican Church of Melanesia (ACOM), Honorable Lynton Stevens, Vice Chancellor of ACOM, emphasized the destructive impact of corruption on trust. The renowned former Judge of the NZ High Court commenced his address by highlighting the difficult nature of gaining trust, but also how effortlessly it can be shattered. With a fervent conviction, he brought attention to the urgent need for eradicating corruption in all its forms, concluding that the church must strive to set an exemplary standard for society.
During the enlightening speech, Hon. Stevens drove home the significance of trust as a foundation for a prosperous and just society. Referring to corruption as a corrosive force, he eloquently conveyed the detrimental effects it has on the very fabric of trust, which binds individuals and communities together. Drawing from his wealth of experience in the judicial system, he underscored how actions driven by self-interest and illicit gain only serve to erode the public's confidence in institutions.
Hon. Stevens passionately advocated for a united and unwavering stance against corruption, firmly stating that it must be rooted out at its core. He called upon the church to take a prominent role in this critical mission, not only as a spiritual guide but also as a moral compass for society. By exhibiting integrity, transparency, and accountability, the church can demonstrate the way forward, inspiring individuals and other organizations to follow suit.
Highlighting the importance of leading by example, Hon. Stevens urged church leaders to instill a culture of honesty and ethical conduct within their respective congregations. By fostering an environment of trust and integrity, he believes that the church can serve as a beacon of hope and influence positive change in society. Furthermore, he urged the faithful to actively participate in initiatives against corruption and to hold both themselves and others accountable for their actions.
The thought-provoking address delivered by Hon. Lyn Stevens left a lasting impression on the attendees of the 17th General Synod of ACOM. His eloquence and determination in emphasizing the destructive influence of corruption on trust resonated deeply with the audience and the parishioners who attended the addresses after the opening eucharist on Sunday 5th at Saint Barnabas Provincial Cathedral.
All synod delegates are expected to combat corruption and to uphold trust in all aspects of their lives, inspired by the words of Hon. Stevens and the crucial role of the church in leading this vital endeavor as they began to return to their respective dioceses and institutions with renewed motivation to combat corruption at all levels.