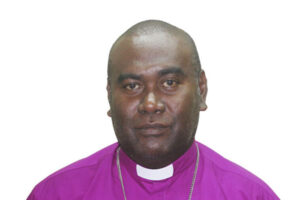 THE Diocese of Guadalcanal in the Province of Guadalcanal is the newly inaugurated diocese in the Province of Melanesia. The diocese was inaugurated on the 23rd of June 2013 at the St. Paul's Chapel at Legalau village, Tasiboko – east of Honiara. The first Bishop of the Diocese of Guadalcanal is the then Senior Bishop in the Province of Melanesia – the Right Reverend Nathan Tome who was elected into the post on the 6th of September 2013 by the diocesan electoral board at TNK.
Out of the thousands witnessing the event were the then Deputy Prime Minister of Solomon Islands Honorable Manasseh Maelanga along with other Government Ministers and the leader of Opposition Dr. Derrick Sikua, Archbishop David Vunagi and the Council of Bishops, Archbishop Adrian Smith of the Roman Catholic archdiocese of Honiara, General Secretary Dr. Abraham Hauriasi, Chancellor and the Vice Chancellor, clergy men and women and lay people of the church of Melanesia that includes Vanuatu and New Caledonia.
Representatives from the Melanesian Mission United Kingdom, Australia Board of Mission and Melanesia Trust Board New Zealand also witnessed the inauguration of the diocese.
Archbishop Adrian Smith of the Roman Catholic Church – archdiocese of Honiara is the preacher on that day.
The Diocese of Guadalcanal covers areas from beyond Lunga Bridge on the east and from beyond White River Bridge on the west of Honiara.
Currently, the head quarter of the diocese is located right next to the DOCM. The diocesan cathedral is at Good Shepard, where the Diocesan Headquarters is currently built.
The current Bishop of the Diocese is The Rt Rev. Benedict Loe.
Contacts:
Diocesan Bishop
Right Reverend Benedict Loe
Phone: (677) 23337
Mobile: (677) 7408852
Diocesan Secretary
Phone: (677) 23337
Mobile: (677)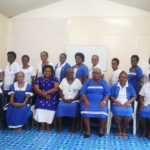 The Anglican Church of Melanesia (ACOM) Provincial Mother's Union (PMU) Council meeting that commenced on Monday 4th has ended successfully this afternoon. This annual meeting