DOM
The Diocese of Malaita (DOM) was formed (along with the other original Dioceses: Diocese of Central Melanesia, Diocese of Ysabel and the Diocese of Vanuatu) in January 1975.
The first Diocesan Bishop and other Bishops are as follows:
The first Diocesan Bishop was Rt Rev. Leonard Alufurai (1975 -1981).
The second Diocesan Bishop was Rt Rev.Willie Alaha Pwaisiho (1982-1989)
The third Diocesan Bishop was Rt Rev. Raymond Aumae (1990-1994)
The Fourth Diocesan Bishop was Rt Rev. Dr Terry Brown (1995 -2008)
The Fifth Diocesan Bishop was Rt Rev. Sam Sahu (1st November 2008 – 13th January 2023)
The current Bishop is Rt Rev Michael Sau Bebeu (Sunday 16th April 2021 – current)
The first Assistant Bishop of Malaita looking after the Southern regions of Malaita was The Rt. Rev. Alfred Hou (2005-2017).
The current Assistant Bishop is The Rt. Rev. Rickson George Maomaoru who was consecrated on the 22nd of October 2017 at Fiu Cathedral.
Number of Regions, Parishes, and active Parish Priests:
There are six (6) Regions, namely Central Region, Keava Region, Northern Region, Small Malaita Region, Arekwa Region and Eastern Region.
There are 46 Parishes in the whole diocese, with 66 active Priests currently serving in Parishes and Institutions.
DOM Vision 2020:
Since 2010 the Diocese is guided and driven by DOM Vision 2020 with six priority areas namely; (1) Making DISCIPLES for King Jesus and his Church in Malaita (2) Making ethical and servant LEADERS for the Church and the rest of Malaita society (3) Making MONEY to develop local communities and to support the mission of the Diocese (4) Developing HOUSING Infrastructure at the Diocesan and Regional Headquarters (5) Strengthening EDUCATION and TRAINING within the Diocese, and (6) Strengthening MEDICAL and HEALTH CARE within the Diocese.
Under DOM Vision 2020, the Diocese is committed to growing and building up an Anglican Church of the 21st century which holds together in Christ the Evangelical, Catholic and Charismatic traditions of the Gospel and the Church.
Contacts:
The Diocesan Bishop
Rt. Rev. Michael Sau Bebeu
Mobile: +677 7377531
Email Address: michaelmalaita@gmail.com
The Assistant Bishop
Rt. Rev. Rickson George Maomaoru
Mobile: +677 7239922
Email: ricksonmaomaoru70@gmail.com
The Diocesan Secretary
Rev. Molyneux Nofa
Mobile: +677 7625678
Email: rev.molyneuxnofa@gmail.com
The Diocesan Treasurer
Mr David Kabulanga
Mobile: +677 7550576
Email Address: deveizzy@gmail.com
The Diocesan Mission Secretary
Rev. Walter Samani
Mobile: +677 7609345
Email: waltersamani@gmail.com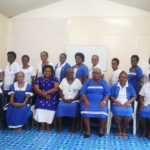 The Anglican Church of Melanesia (ACOM) Provincial Mother's Union (PMU) Council meeting that commenced on Monday 4th has ended successfully this afternoon. This annual meeting