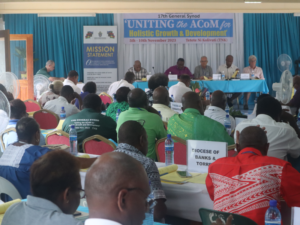 The 17th General Synod of the Anglican Church of Melanesia (ACoM) that runs from the 5th to the 10th of this month at Tetete Ni Kolivuti (TNK) has voted in favor of a bill that paves the way for the southern part of Malaita and Sikaiana to become the 10th diocese within the ACoM.
This momentous decision marks a significant milestone for the Anglican community in the Solomon Islands and comes in response to the wishes of the people of the Diocese of Malaita, as agreed upon in their recent synod.
The bill, which was moved by the Right Reverend Michael Bebeu Bishop of the Diocese of Malaita, received overwhelming support from the delegates attending the General Synod. The move emphasizes the need for effective administration and mission work in the Anglican Diocese of Malaita, considering the geographical setup of the island and its huge population.
Bishop Michael emphasized that dividing Malaita into smaller administrative regions would enable more efficient and targeted efforts in delivering services and strengthening the Anglican faith. The new diocese status for the southern part of Malaita and Sikaiana offers the opportunity for better governance, focused pastoral care, and enhanced spiritual development for the Anglican community.
The decision has been hailed as not only a major achievement for the Anglican Church but also as a reflection of the ACoM's commitment to meeting the specific needs of its members across the Solomon Islands. By granting the southern part of Malaita and Sikaiana diocese status, the ACoM acknowledges and responds to the diverse population and unique challenges in different regions.
Furthermore, this historic vote reaffirms the Anglican Church's dedication to the promotion of unity, inclusivity, and effective administration within its community. The creation of a new diocese will allow the Anglican Church to provide promptly and comprehensively for the spiritual, social, and developmental needs of its members.
As plans move forward to establish the 10th diocese within the ACoM, Bishop Michael and other clergy members are expected to work closely with church leaders, community members, and relevant stakeholders to ensure a smooth transition. The ACoM General Synod's decision emphasizes the commitment to empower local leadership and provide a stronger voice for the Anglican faithful of the southern part of Malaita and Sikaiana.
In supporting the bill as the seconder, Assistant Bishop of Malaita, the Right Reverend Rickson Maomaoru said the proposed diocese of Malaita has already achieved some of the requirements that was expected by the church.
"We have completed three staff houses and expected to complete an office complex in April next year" Bishop Rickson said.
The ACoM remains determined to support the growth and development of the Anglican faith throughout Melanesia while attending to the specific needs of its congregations. With this latest decision, the Anglican Church of Melanesia takes another significant step forward in its mission to reach, serve, and nurture its members with unwavering dedication.