New Dean For St. Barnabas Provincial Cathedral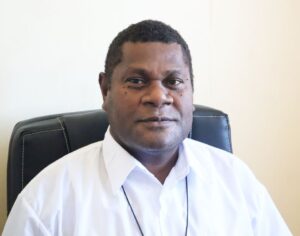 The Most Reverend Leonard Dawea, Archbishop of the Anglican Church of Melanesia (ACoM) and Chairman of the St Barnabas Provincial Cathedral Chapter is pleased to announce the appointment of Reverend Wilfred Kekea as the new Dean of Saint Barnabas Provincial Cathedral this afternoon.
The Cathedral Chapter appointed Revd. Kekea at its meeting on 8th December at the ACoM conference room in Honiara.
The Cathedral Chapter also acknowledges Revd. Philip Rogotha for his dedication, commitment and service rendered to the church during his five years term in the office. His term lapses end of this year.
Reverend Wilfred Kekea will assume his new role on 1st January 2023.
Revd Kekea is currently serving at the Provincial office of the ACoM as Coordinator of the Faith and Order Commission. Prior to joining the provincial office, he was at the Pacific Theological College in Suva, Fiji, undertaking postgraduate studies in theology.
Revd Kekea has held several positions within the Diocese of Central Melanesia at its Diocesan Headquarters and in the parishes.
He has previously served at the St. Barnabas Cathedral as a Parish Rector.
Reverend Wilfred Kekea in his meeting with the Archbishop this week accepted the appointment and pledged to do his best to discharge the roles placed upon him by the Chapter to serve at the Provincial Cathedral.
The Archbishop of Melanesia and Chair of the Cathedral Chapter congratulated him and wished him well in his new role.
The Chairman of the Cathedral Chapter, at this juncture, also extends Christmas Greetings to the members of the St. Barnabas Provincial Cathedral and sends New Year's well wishes to all the Staff, the Parish and Ministries leaders and their families.