The gra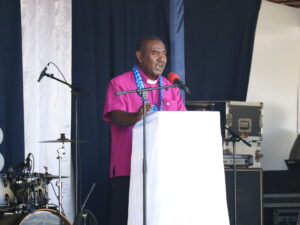 duation and prize-giving ceremony, held under the theme 'Ethics – Educating, Transforming, Healthiness, Innovating, and Connecting for Sustainability,' showcased the achievements of the graduating students during their time at the college. The Right Reverend Benedict Loe, Bishop of the Diocese of Guadalcanal said this as he shared a short reflection based on the Bible reading on James 1:1-12 at the opening of the graduation and prize-giving ceremony At Saint Nicholas Anglican College this morning (Friday 29th Sept.).
Drawing from the Bible reading, Bishop Loe highlighted the call to persevere through trials and difficulties, emphasizing that life is filled with challenges. He urged the students to view these hurdles as opportunities for growth and transformation, rather than obstacles to be avoided.
Furthermore, Bishop Loe emphasized the power of education in fostering resilience and perseverance. He commended the students for their hard work and encouraged them to continue embracing the value of education beyond graduation. He noted that education equips individuals with the knowledge and skills necessary to overcome trials and navigate through life's uncertainties.
He stressed that true education goes beyond academic achievements, focusing on the development of strong moral values and a healthy mindset. Bishop Loe challenged the graduating students to use their knowledge and skills responsibly, ensuring that their actions promote the common good and sustain the well-being of others.
Building on the notion of ethics, Bishop Loe delved into the themes of innovation and connectedness. He recognized the rapidly evolving world and the need for graduates to embrace innovation and adapt to changing circumstances. He encouraged the students to think critically, solve problems creatively, and foster a mindset of continuous learning.
Moreover, Bishop Loe emphasized the power of connectedness in creating a sustainable and harmonious society. He urged the graduates to cultivate meaningful relationships, emphasizing the importance of empathy and collaboration in tackling societal challenges collectively.
As he concluded, he reminded the graduates that education is not merely about acquiring knowledge, but about developing virtues and character. By embracing the values of ethics, healthiness, innovation, and connectedness, you will become agents of positive change in your future pursuits.
The ceremony served as a moment of celebration, but also as a call to action.
Six hundred and ninety students from forms 3, 5, 6, and 7 graduated this morning.